Chemical Spillage Response Training Course
This course is specifically designed for delegates who have an additional responsibility for spillage incident response on-site. This may include for example, emergency response personal, laboratory technicians, haulage handlers, pharmaceutical employees and safety personnel.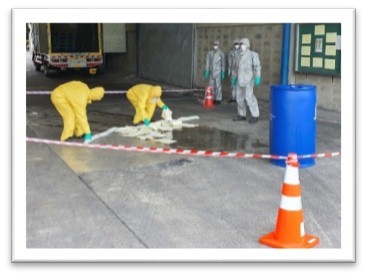 Course Aim
Our Chemical Spillage Response Training Course is designed to familiarise spillage response personnel with the correct procedures and techniques, when dealing with a chemical spillage incident on-site, in accordance with the company emergency action plan.

Each course is designed specifically with your business in mind, along with practical training scenarios, to ensure your employees are competent and confident should a chemical spillage occur.

Course Overview
Legislative requirements
Company action plan
The role and responsibilities of the spillage response team
Hazard identification & the importance and use of Hazard Data Sheets (MSDS)
The correct use of emergency safety equipment PPE / RPE
Casualty handling and emergency First Aid
Chemical spillage Exercise/s
Contaminated waste disposal
Consideration for environmental issues
Course de-brief.
Site specific Q&A's and evaluation
On successful completion of the course, all delegates will receive a certificate of attendance.
For further information and a full course syllabus, please submit your details in our contact us page.
Control of Substances Hazardous to Health Regulations 2002 (as amended) compliant
Fully insured and delivered on your company premises.
Fully certified upon successful completion.
"I feel so much more confident in my abilities to deal with spillages onsite now. It was particulary interesting to hear about the environmental impacts spillages have on the wider area."
~ Duncan. L – 10rd May
We're pleased to provide training throughout the North East, covering
Northumberland, North Tyneside, South Tyneside, Gateshead, Newcastle, Sunderland, Durham, Tees Valley, Edinburgh, Yorkshire and Humber.
Not sure if we cover your area? Just ask.


Click here for a no obligation quotation, or to see the extensive range of courses and services we offer click here