FTS Fire Door Testing and Inspection Service
As outlined in the Regulatory Reform (Fire Safety Order) 2005, there is a legal requirement buildings must be regularly inspected, tested and maintained. Part of this is the essential maintenance of fire doors, which among other things, is a key factor in helping slow the spread of fire, heat and smoke, ultimately saving lives and the damage caused to a business.

Due to the importance of fire safety doors and their impact on the workplace, it is the building owners or building managers responsibility to ensure these are correctly installed, maintained and failure to do so can resulted in buildings being shut down and those responsible prosecuted when breaches of the order occur.

As well as slowing the spread, fire doors also act as a means of escape for individuals, as such we recommend fire doors should be inspected every six months, although this will also be outlined in your fire risk assessment.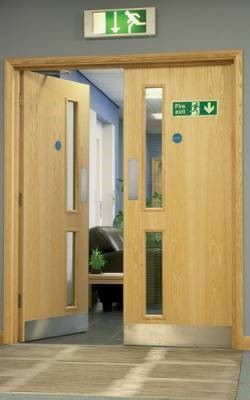 What's included in the Inspection service?
As standard, all of our inspections are conducted by qualified assessors and we provide a fully comprehensive report following our inspection. Outlined below is an example of the criteria covered in the report;


A detailed database of all doors on site
A door by door breakdown covering hinges, locks, latches and closers
Assessment of intumescent strips and cold smoke seals
Signage assessment – are the correct signs in place? Are they maintained to the correct standard?
An outline of any remedial action required to ensure the fire doors are compliant with BS8214:2016 (Clause 13) and BS476
For a comprehensive breakdown and for more information about our Fire Door Testing and Inspection Services, click here and we would be happy to assist you and your business.
"I always get good feedback from the employees about the training delivered. I know from bothinside and outside of work that service levels and delivery of what was promised are quite often short of what was promised / expected. However the service delivered by FTS is always excellentand I do appreciate this."
~ Trevor. P - 13th December
We're pleased to provide training throughout the North East, covering
Northumberland, North Tyneside, South Tyneside, Gateshead, Newcastle, Sunderland, Durham, Tees Valley, Edinburgh, Yorkshire and Humber.
Not sure if we cover your area? Just ask.


Click here for a no obligation quotation, or to see the extensive range of courses and services we offer click here